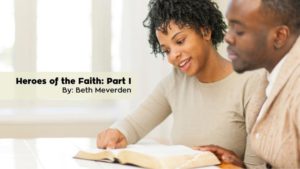 Many people call Hebrews 11 the "Hall of Faith" or "Heroes of the Faith." I love to study it, because I'm challenged to learn whatever I can from the people in the Bible – from their good decisions and from their bad ones.
A good challenge is to see what our children know of the people listed in the "Heroes of the Faith."
But, like always, to set the standard and be the example, I need to check the list myself and see what I know. So, I'm challenging you to do the same.
Here's the list in Hebrews 11:4-33 and where you can learn more about these people in the Old Testament if you realize you need to learn more about those people! When you've gone through the list yourself, you can take your children through the list. As they answer, you'll see if there are holes you need to fill in of their understanding or if they're on track with what they're learning from reading the Bible and learning in Sunday School!
Abel (Hebrews 11:4) – Genesis 4
Enoch (Hebrews 11:5-6) – Genesis 5:21-24
Noah (Hebrews 11:7) – Genesis 6-9
Abraham (Hebrews 11:8-19) – Genesis 12-25
Sarah (Hebrews 11:11) – Genesis 12-23
Isaac (Hebrews 11:20) – Genesis 21-35
Jacob (Hebrews 11:21) – Genesis 25-50
Joseph (Hebrews 11:22) Genesis 30-50
Moses (Hebrews 11:23-29) – Exodus
People who passed through the Red Sea (Hebrews 29) – Exodus
Joshua (Hebrews 11:30) – Exodus and Joshua
Rahab (Hebrews 11:31) – Joshua 2
Gideon (Hebrews 11:32 – Judges 6-8
Barak (Hebrews 11:32) – Judges 4-5
Samson (Hebrews 11:32) – Judges 13-16
Jephthah (Hebrews 11:32) – Judges 12
David – 1 & 2 Samuel; 1 Chronicles
Samuel – 1 Samuel
The Prophets – Daniel-Malachi
So, how did you do? I'd add a few more major life stories to the list to do a foundational children for my children. I'd add Adam and Eve, Aaron and Miriam to Moses' story, Caleb to Joshua's story, Deborah to Barak's story, and not forget Ruth and Esther.
I hope this challenge inspires you to learn more about all of these people and discuss these life stories with your children. Remember to make clear which things can be learned from each of their lives whether good or bad!
Now faith is confidence in what we hope for and assurance about what we do not see. This is what the ancients were commended for. Hebrews 11:1-2
To make going through this list of people fun, you could write each of these names on 3×5 cards with the Scriptures they are in on the back. Show your children the person's name on the card and see how much information they can come up with about that person. If your children don't know about that person, read the Scriptures together and talk about lessons from that person's life. You can change it up by letting your children show you the cards and you come up with as many lessons as you can from that person's life! Enjoy learning together!